Our Time-Traveling Marine Biologist
Austin Hendy has big plans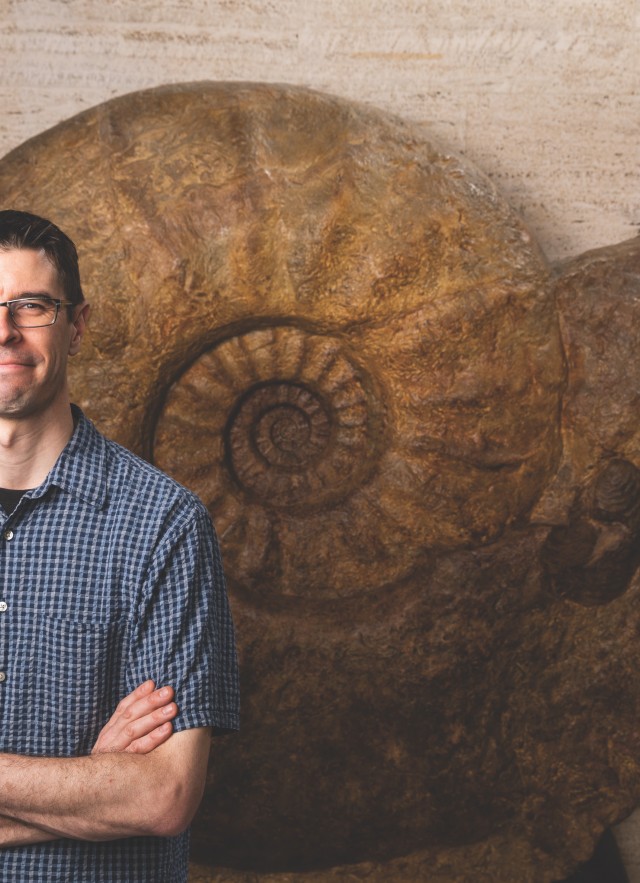 Austin Hendy is a self-described dreamer. He had big plans when he first came to NHM as Assistant Collections Manager several years ago. Now, in his new role as Assistant Curator of Invertebrate Paleontology, he shows no signs of slowing down. NHM has one of North America's Largest collections of invertebrate paleontology with more than seven million fossil specimens of animals that lack a backbone, such as crabs, shrimps, clams, snails, sea urchins, and corals. It's a big job, and with Hendy at the helm, it's only going to get bigger.
"I tend to think about big patterns in the fossil record, such as how geography, ecology, and evolution interact, and how those interactions have changed through time," he says.
He sees the vast warehouse of fossil snails, clams, oysters, and trilobites as a springboard for field research and collaborations. The collection is so vast that he takes his role as a facilitator of others' research very seriously, but he is equally aware that the answers to questions raised by museum specimens often require heading back to the field. "I really want to understand how our marine ecosystems became what we are familiar with today."
UNDERWATER CLUES
L.A. has been mostly underwater for the past 90 million years until 60,000 years ago. Looking at our modern coastline and ocean beyond is essential to understand these changes. Collaborations with our experts in Malacology and the Marine Biodiversity Center give him access to modern ecosystems and organisms. Participation in NHM's Diversity Initiative for the Southern California Ocean (DISCO) and Los Angeles Urban Ocean Expedition project has been enlightening. By understanding the ecology and evolution of modern organisms, Hendy can get a bird's-eye-view of how species reacted to environmental changes in deep time and in real time. Hendy promises to share that knowledge with a wider audience: He has opened up the warehouse to volunteers to help catalogue the collections, leads fossil-hunting hikes, and helps train future science teachers through a collaboration with California State University, Dominguez Hills. In this new position, Hendy sees a world of exciting possibilities for many more years to come.